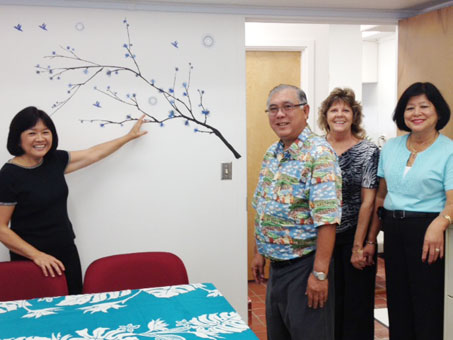 Honolulu, Hawaii — Renovations of the Leahi Hospital nursing office located on the second floor of the Young Building are complete, and has a fresh, new look. Following extensive renovations, the consolidated nursing office now accommodates a total of nine staff, including the director of nursing, clerks, department secretary, nurse practitioner and nursing supervisors.
As part of the renovations, the director of nursing office was relocated from the first floor of the Atherton Building in order to provide better access to nursing staff.
At the recent Open House celebration, visitors, employees and Medical Staff had the opportunity to view all the changes as a result of the renovation. "We received many positive comments about how the renovation enables the nursing administration to be more in touch with what is happening as well as allowing staff to being more accessible to the units," said Lani Tsuneishi, acting director of nursing. "All the changes we have been making are to benefit our nursing staff, and ultimately the care of our residents."
HHSC Oahu Region Chief Executive Officer Vincent Lee added, "This is an important project that truly enhances the present working relationships of our nursing staff. The welfare of our residents is our top priority, and we are continually looking for more ways and improved methods to provide compassionate, person-centered care within a more home-like environment in which they live and offer more choices in their daily routines and activities."
Leahi Hospital is one of 12 facilities operated and managed by the Hawaii Health Systems Corporation (HHSC). Established in 1996, HHSC is a public benefit corporation of the State of Hawaii. As the state's safety-net healthcare system, HHSC continues to fulfill the state's promise to provide quality, hometown healthcare.