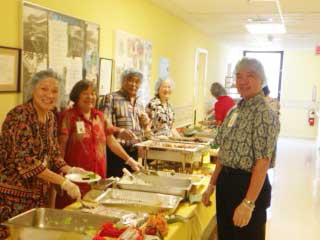 Honolulu, Hawaii — In observance of National Nursing Home Week (NNHW), May 12-18, Maluhia hosted a series of events designed to enrich the relationships and contacts between residents, family and community members.
NNHW spotlights nursing home residents and staff and encourages all to celebrate those that make a positive difference in their lives every day. A supportive and caring environment, such as a nursing home, provides enrichment for our Kupuna, frail loved ones and families to continue growing, learning and sharing. The week also provided an opportunity to honor all those who contribute to our nursing homes.
"Our residents' health and happiness depend a great deal on the care that they receive. Celebrating NNHW showcases the many caregivers whose dedication and hard work contribute to high-levels of satisfaction among our residents. The HHSC Oahu Region leadership is very appreciative of the efforts of our staff, volunteers, family and community members," said Derek Akiyoshi, Maluhia administrator.
Some of the week's events at Maluhia, included: T-Shirt Day; Scavenger Hunt; Hat Day; Cooking for the Residents; Team Dress Up Day; and Staff Lunch.