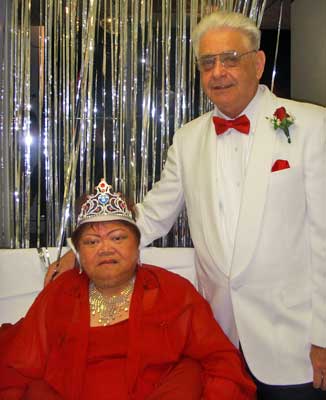 Honolulu, Hawaii — Mother's Day, May 9, marked the beginning of National Nursing Home Week, and both the residents and nursing-home staff of Leahi Hospital planned a week full of special events and activities.
"Enriching Every Day" is this year's theme chosen to encourage the community to consider and appreciate how "enriching" occurs in long-term care facilities. The week's activities were designed to showcase the positive bonds that naturally develop between residents and their respective caregivers.
"Something very special and exciting happens with on-going relationships between residents, families, and loved ones," noted Karen Halemano, recreational therapy manager. "Everyone benefits through this fundamental human interaction with a full enrichment of mind, heart, and spirit."
The events began on Sunday, May 9, with a Mother's Day Tea Party, followed by a Taste of Leahi at the North Trotter Patio on Monday, May 10, Casino Day at Young 1 Activity Room on Tuesday, May 11, Senior Prom at Young 1 Activity Room on Wednesday, May 12, Employee Recognition Awards at the Adult Day Health Center lobby on Thursday, May 13.
The week concludes on Friday, May 14 with the May Day Celebration at the North Trotter Patio.
"This week gives a chance us a chance to honor these our special residents, as well as staff, families, and our community supporters," said Vincent H.S. Lee, chief executive officer, HHSC Oahu region.
Leahi Hospital is one of 12 facilities operated and managed by the Hawaii Health Systems Corporation (HHSC). Established in 1996, HHSC is a public benefit corporation of the State of Hawaii. As the state's safety-net healthcare system, HHSC continues to fulfill the state's promise to provide quality, hometown healthcare.