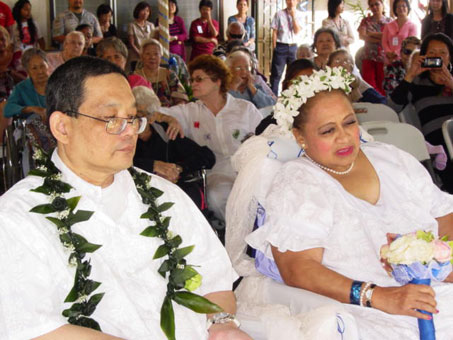 KITV News: Couple who suffered from stroke ties the knot
Hawaii News Now: Leahi Hospital celebrates a special long-term care relationship
Honolulu, Hawaii — With the beginning of the spring season, love was in the air at the Leahi Hospital, long-term care facility in Kaimuki.
Newlyweds Miles and Christine Takiguchi held their wedding ceremony and reception at the location where they first met.
This was the first wedding to be held at Leahi Hospital on Friday, March 30, 2012, at 10:00 a.m.
Miles met Christine several years ago, and soon after he knew that they had a lot in common, particularly at keeping their minds busy. Christine remembers Miles as always being cheerful and someone pleasant to talk to, which in turn, kept her focused and prepared to change and adjust.
In 2011, Miles asked Christine to spend the rest of her life with him, and she replied, "YES!"
"This is another chance for us to celebrate a significant milestone," said Vincent Lee, Leahi Hospital chief executive officer. "Hawaii needs to hear the positive story of this couple, who have made the commitment to being this long-term care relationship together."
Leahi Hospital is one of 12 facilities operated and managed by the Hawaii Health Systems Corporation (HHSC). Established in 1996, HHSC is a public benefit corporation of the State of Hawaii. As the state's safety-net healthcare system, HHSC continues to fulfill the state's promise to provide quality, hometown healthcare.