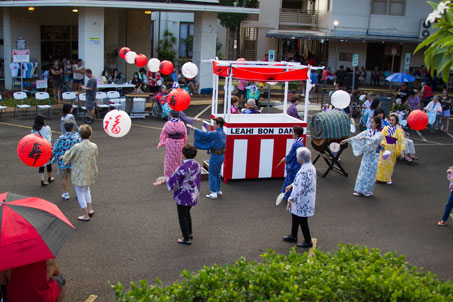 Honolulu, Hawaii — When it comes to Leahi Hospital summer treats, the summer Bon Dance continues to be a favorite at the HHSC long-term care facility located in Kaimuki. Under a cool summer night on July 28, residents, resident family members, staff and hospital neighbors were treated to the Hawaii Shin Kobukai Dance Club dancers wearing summer kimonos move in a circle to the beat of a Taiko drum in the Leahi Hospital Front Parking Lot. The mood was joyous with both residents and spectators of all ages.
"The general sentiment of our residents is: it's not quite a summer without a Bon Dance," said Vince Lee, HHSC Oahu region chief executive officer. "And we're fortunate to have the Hawaii Shin Kobukai Dance Club members donate their time to fulfill this request, which truly uplifts the spirits of our residents."
Leahi Hospital is one of 12 facilities operated and managed by the Hawaii Health Systems Corporation (HHSC). Established in 1996, HHSC is a public benefit corporation of the State of Hawaii. As the state's safety-net healthcare system, HHSC continues to fulfill the state's promise to provide quality, hometown healthcare.