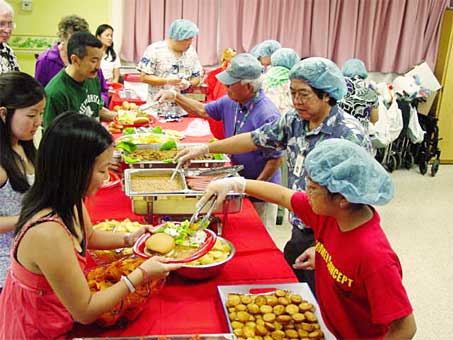 Honolulu, Hawaii — Residents, resident families and staff from Maluhia, along with numerous guests enjoyed a delicious barbeque dinner – i.e., BBQ pulled pork sandwich, hot day, baked beans, chips, salad, dessert, and fresh fruits – Wednesday afternoon, July 21, 2010.
With music playing, staff members dancing (i.e., country-line dancing and hula), door-prize giveaways and the warmth of the summer sun over the Maluhia Sundeck, the afternoon meal was a hit. Members of the Friends of Maluhia, hospital volunteers group, student internship program and numerous others enjoyed the annual summer celebration.
"This is an annual event that is so special to the residents, their families, our staff, and the supportive community," said Ken Takeuchi, Maluhia interim administrator. "It enhances warm relationships among those we care about most and provides us with another opportunity to recognize and appreciate the past contributions of our nursing home residents."
Maluhia is one of 12 facilities operated and managed by the Hawaii Health Systems Corporation (HHSC). Established in 1996, HHSC is a public benefit corporation of the State of Hawaii. As the state's safety-net healthcare system, HHSC continues to fulfill the state's promise to provide quality, hometown healthcare.